A Door To Everything Society came together the summer of 2016
considering the questions, "How can we help? What can we do to help?"
Homelessness and addiction – the fentanyl crisis – were the issues
that surfaced again and again, meeting after meeting.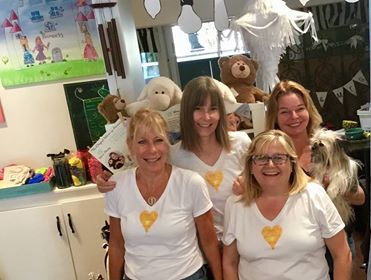 This is us from left to right, front row to back row,
Jayne De'Ath, Linda Marshall, Kathleen Willis,
and Kim VanSickle with her dog, Beauty.
In November 2017, we discovered John Volken Academy,
a therapeutic recovery community for young people ages 18 – 32,
and began collaborating, raising awareness about this amazing facility.
Kathleen has been teaching the women at John Volken Academy to sew
since the Fall of 2018. We've organized several "Spa Days,"
hair cuts and manicures, and recently a visit to
Wisteria Acres with therapeutic horses
and Theatre Under the Stars
in Stanley Park.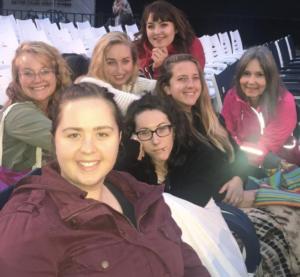 What will the future bring?