A Door To Everything Society came together the summer of 2016
with the same question, "How can we help? What can we do to help?"
Homelessness and addiction – the fentanyl crisis – were the troubling issues
we brainstormed about again and again, meeting after meeting.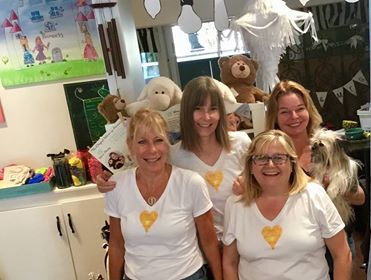 This is us from left to right, front row to back row,
Jayne De'Ath, Linda Marshall, Kathleen Willis, Kim VanSickle
in West Coast Wishes, Linda's artisan cooperative in Ambleside
120 – 1425 Marine Drive, West Vancouver, BC, V7T 1B9.
In November 2017, we discovered John Volken Academy,
a therapeutic recovery community for young people ages 18 – 32,
and began collaborating, raising awareness about this amazing facility.
Summer 2018, Linda opened West Coast Wishes,
a cozy gathering place for local artisans and community events,
we began a collaboration with Karen McKee of Warm Buddy Company
designing, making, selling Cozy Dresses with a portion of sales going to ADTE,
and Kathleen began teaching the women at John Volken Academy to sew.
We look forward to what the future brings!