Assisting Women and Children,
Cabos San Lucas, Mexico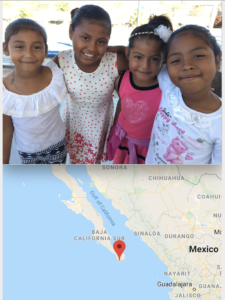 December 3-10th, 2019, a group of us travelled with Kelly Oswald, owner of The Oracle, and her husband, James, to the tip of the Baja Peninsula, Cabos San Lucas, Mexico.
Kelly's friend, Adriana, helped chaperone us as we visited foundations assisting beautiful women and children living in poverty and often violence.
We participated in sharing a simple drawstring back pack pattern for the ladies to sew and sell, lunch-time feeding and clean-up at a local school, lots of playing, and handing out requested gifts of crayons and colouring books.
It was hard to witness the dichotomy of rich and poor — I knew it was there having visited Cabos before — but not to the extent I saw it this time. There is a marina full of million dollar yachts and a few miles away dirt roads, not enough food, violence and abuse. . .
Bless the ones born into the physical poverty with the possibility of violence and abuse.
We are here to lift everyone up,
for gender equality to be reality here Now.