Dreamland: The True Tale of America's
Opiate Epidemic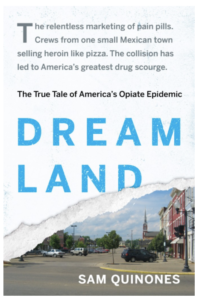 http://www.samquinones.com/books/dreamland/
In 1929, in the blue-collar city of Portsmouth, Ohio, a company built a swimming pool the size of a football field; named Dreamland, it became the vital centre of the community.
Now, addiction has devastated Portsmouth, as it has hundreds of small rural towns and suburbs across America — addiction like no other the country has ever faced.
How that happened is the riveting story of Dreamland: The True Tale of America's Opiate Epidemic.
Acclaimed journalist Sam Quinones weaves together two riveting tales of capitalism run amok whose unintentional collision has been a catastrophic opiate epidemic.
The unfettered prescribing of pain medications during the 1990s reached its peak in Purdue Pharma's campaign to market OxyContin, its new, expensive — extremely addictive — miracle painkiller.
Meanwhile, a massive influx of black tar heroin — cheap, potent, and originating from one small county, Xalisco, Nayarit, on Mexico's west coast and independent of any drug cartel — assaulted small town and mid-sized cities across the country, driven by a brilliant, almost unbeatable marketing and distribution system.