Dreamland: The True Tale of America's
Opiate Epidemic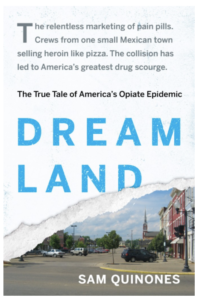 http://www.samquinones.com/books/dreamland/
In 1929, in the blue-collar city of Portsmouth, Ohio, a company built a swimming pool the size of a football field; named Dreamland, it became the vital centre of the community.
Now, addiction has devastated Portsmouth, as it has hundreds of small rural towns and suburbs across America — addiction like no other the country has ever faced.
How that happened is the riveting story of Dreamland: The True Tale of America's Opiate Epidemic.
Acclaimed journalist Sam Quinones weaves together two riveting tales of capitalism run amok whose unintentional collision has been a catastrophic opiate epidemic.
The unfettered prescribing of pain medications during the 1990s reached its peak in Purdue Pharma's campaign to market OxyContin, its new, expensive — extremely addictive — miracle painkiller.
Meanwhile, a massive influx of black tar heroin — cheap, potent, and originating from one small county, Xalisco, Nayarit, on Mexico's west coast and independent of any drug cartel — assaulted small town and mid-sized cities across the country, driven by a brilliant, almost unbeatable marketing and distribution system.
Together these phenomena continue to lay waste to communities from Tennessee to Oregon, Indiana to New Mexico.
Finally, Quinones finds hope in the same Rust Belt river town that led the country into the opiate epidemic, Portsmouth, Ohio, where townspeople are turning away from dependence and toward economic as well as municipal self-reliance, and with that recovery.
Introducing a memorable cast of characters, pharma pioneers, young Mexican entrepreneurs, narcotics investigators, survivors, and parents, Quinones shows how these tales fit together.
Dreamland is a revelatory account of the corrosive threat facing America and its heartland.
---
Comments from Sam Quinones' website, Dreamland – Online Bibliography:
SUSAN SHANAMAN, February 23, 2016
Just finished reading DREAMLAND. It was well worth the time. I learned much about the black-tar heroin and the history of oxycontin. The book should be read by everyone who is involved in this public health epidemic, which is only getting worse.
As a representative for Coroners who see the death at the front lines of this issue, the problem of substance abuse is not diminishing even with all the public attention to the issue. We need to develop real solutions by reinvigorating our churches, our communities and our families.
Hope has to be keystone of our lives — hope for a job, hope for a family, hope for participation in an all inclusive society. In other words, as the book concludes, it is essential that everyone's vision of their Dreamland become a reality again.
---
ELAINE MCDONALD, September 1, 2016
Thank you for writing this book. It helped me see the bigger picture and helped me realize how this addiction spread so fast and hard.
When my son began abusing alcohol and drugs my husband and I were so unaware of what was happening. He would seem to recover and then fall back.
Not until he was arrested and jailed did we realize how serious it was. We began reading about opiate addiction but answers were hard to find.
After a decade of addiction, including a third long term spell in treatment, he is in recovery and working at the recovery centre he attended. He has been clean for two plus years and is studying for a degree in social work.
Our story is one of hope, but we have neighbours who have lost sons forever.
Treatment that was hard to find several years ago now is available thanks to money from the settlement won by our former attorney general.
I wish all white middle and upper class parents understood that this can happen to any of their bright well educated children, because it has.
We are not in Eastern Kentucky, but our drug treatment centre has plenty of people from there.
I have noticed doctors and dentists prescribe fewer pills for pain relief now, which is good.
However the new drug of choice is heroin and overdoses are too common from the news reports I see.
I wish there was a way to convince kids not to get started on opiates.
---
JERRY HOULIHAN, March 8, 2018
Excellent read. I picked the book on a Thursday evening last month in February and finished it on a Sunday evening, 3 nights later.
I'm a recovered alcoholic since I was 25, almost 30 years ago, and went to Washington in 2012 for the "Unite to Face Addiction" rally to lobby for the current laws that are in place for rehabs, narcane education, Opiate crisis, etc.
Really identified with your stories about the rehabs getting filled with heroine users as opposed to "drunks".
I am very active in helping recovering alcoholics but the young people coming into AA are all on heroine.
The same 12 steps apply so the recovery talk is basically the same, just our "drunkalogs" are different. And when someone relapses, the % of them dying has increased exponentially when it comes to heroine as opposed to booze.
I understand the push to build the wall now, but this is a band-aid solution to the problem.
The movement towards recognition and away from shame is starting, but its not enough.
We need recovery based solutions in addition to the halting of the trade. Not 30 day detoxes that are ripe for fraud and misuse.
Thank you so much for your dedication to the making the problem transparent to the public and Washington.
I admire your tenacity and it inspires me to help others.