How Frighteningly Strong Meth
Has Supercharged Homelessness
By Benjamin Hart, Intelligencer, December 6th, 2022
https://nymag.com/intelligencer/2022/12/sam-quinones-on-meth-fentanyl-and-homelessness.html
Sam Quinones has covered gangs, crime, and the border for 35 years, including a ten-year stint at the L.A. Times.
He established himself as a leading voice on the opioid epidemic with the 2015 book Dreamland, which told the story of how prescription-drug companies and a sophisticated black-tar heroin operation in Mexico wreaked havoc across the U.S.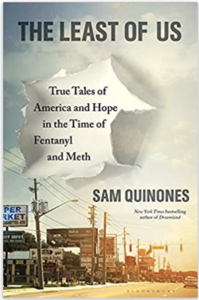 In his follow-up, 2021's The Least of Us, Quinones focused on the rise of two synthetic drugs: fentanyl, which had become ascendant in the intervening years, and a frighteningly potent form of meth that can quickly inflict tremendous damage on users.
The extreme effects of these drugs, Quinones believes, has worsened the homelessness crisis in America.
I spoke with Quinones about the ravages of meth and fentanyl, how they have exacerbated social problems around the country, and what local and federal governments can do to stem the problem.
In your book, The Least of Us, and in an Atlantic piece last year, you wrote about the rise of very pure meth, which is produced in a different way than the variety that used to flow into the U.S.
The effects have been devastating, but this still seems like a fairly under-the-radar phenomenon. Has it gotten more attention since you wrote about it?

My book highlighted this problem that people were seeing all across the country, and now people are trying to understand why it's happening. And I think more and more people are coming to the conclusion that the meth coming from Mexico is being produced with much more potency. [Read more…]