Working as a Reader
with Women in Recovery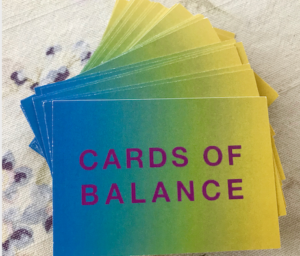 I have been volunteering since 2016 at John Volken Academy in Surrey, a therapeutic community for young people in recovery from many different kinds of addiction.
At first, I taught sewing and crafts, then I began taking the women on outings to visit therapeutic horses and outdoor theatre.
As we got to know each other, they were curious how I made a living, wanting to know about the information I share in readings.
Lately, when I visit the women on Monday evenings, we pull cards.
We sit in a circle around their large dining room table, and they  pull 3 cards from each of the decks I use — I work with 2 Tarot decks and my own, Cards of Balance.
Then we discuss what is going on in their lives, with aid of the cards.
There are often fun gasps of amazement as the cards mirror what is happening for them, encouraging them along on their incredibly courageous paths.
Being with these women is a highlight of my week.
I feel so blessed to be included on their journeys
as they change into Who They Truly Are.