Canvasing with Jody Wilson-Raybould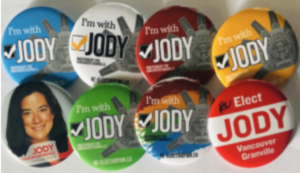 Jody Wilson-Raybould is running as an Independent in my riding.
I can see her new campaign office from my apartment window and I'm super excited to be out canvasing for her!
We are meeting wonderful people in the neighbourhood who really appreciate Jody's values, her dedication to our nation's right alignment.
Embodying the ways of the higher realms, Jody speaks freely about how she would like everyone working together in politics, as a circle, for the betterment of our country, Canada.
She writes here why she decided to run again for office in a post on her website titled, "Why I'm Running as an Independent Candidate":
"For the past three and a half years it has been my greatest privilege to serve the constituents of Vancouver Granville as your Member of Parliament and I believe my time in federal politics is not yet over.
"There is still much work to be done. So, after much reflection and deliberation and given all of the kind words of encouragement and support, I have decided to seek re-election in the upcoming 2019 federal election for Vancouver Granville as an independent candidate."
Wednesday, September 18th, Jody and Dr. Jane Philpott will be at the Hellenic Community Center in Vancouver for a meet and greet, refreshments, entertainment, and speeches.

For more information about Jody visit: Re-Elect JWR
Love you, Jody! Thank you for being Who You Are.