John Volken Academy:
Therapeutic Community
for Drug and Alcohol Addiction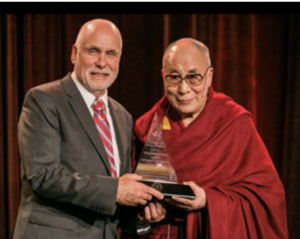 In 2014, John Volken, founder of the John Volken Academy was awarded the Dalai Lama Humanitarian Award in recognition of his outstanding work creating three therapeutic communities for drug and alcohol addiction recovery.
He has constructed academies in Surrey, BC, Canada, in Seattle, Washington, and Phoenix, Arizona with his own wealth.
Each academy has conjoined work environments for the participants to have on-the-job training.
Recently, A Door To Everything Society had the honour of touring the John Volken Academy in Surrey, BC, as well as the 60,000-square-foot work environment for the students, Price Pro, a retail outlet selling groceries, household goods, and furniture.
We were really impressed with the incredible dedication and care that has gone into this academy for ones who are struggling with issues of addiction.
John Volken Academy encourages those who are ready for change that it's possible:
"Walk alongside others in this holistic, long-term recovery program. Change your lifestyle. Earn an education and career training.
"Learn more about the Therapeutic Community model and how you can overcome addiction."
****
John Volken's History
Born in December 1941 in Potsdam, a city that became part of communist East Germany, John was only three years old, when his father, a medical doctor, died during the Second World War.
Due to extremely limited finances John's mother put him and his two brothers in an orphanage for a short-time where he experienced the camaraderie of "30 brothers".
In 1960, at the age of 18, John immigrated to Canada with $100 in his pocket. He did odd jobs while learning English, and then sought a career in sales.
In 1981, he opened a small retail operation selling used furniture and other used goods which he named United Buy & Sell Service.
Soon he began selling only new furniture, and after opening a few more outlets, he changed the name of his stores to United Furniture Warehouse.
Over the next 20 years, United Furniture Warehouse expanded to more than 150 stores with annual sales of $200 million.
****
In 1998 he began researching social issues, wondering what he could do to make a difference, and discovered there was a need for long-term, residential treatment and life-skills training for those struggling with alcohol and drug addictions.
John visited and studied numerous facilities in the United States and Europe that provided such services.
In 2004, John sold United Furniture Warehouse and began devoting himself full-time to his foundation's charitable endeavour of creating therapeutic communities for those suffering from extreme addiction.
A 2-year treatment program is offered to those between the ages of 19 and 34 (there can be some flexibility with age) and other than a small one-time admittance fee (if necessary, this can be waived), the entire cost, as well as all members' basic living expenses, are paid for by John's Foundation.
Focusing on the Key Development Areas, listed below, to create full recovery from drug and alcohol abuse, participants come to balance mentally, physically, emotionally, and spiritually gaining the ability to comfortably integrate back into family and community without their former addiction issues.
Adopting new attitudes, behaviours, values
Communication, co-operation with others
Accountability, responsibility
Patience, tolerance, perseverence
Pride in employee performance
Humility, self-control, excellence standards
Management and leadership skills, problem solving, ability to handle criticism
Business principles, entrepreneurship
Coping abilities in public
Going the extra mile with focus on giving
Dealing with changes, improving self-confidence
Punctuality, reliability, productivity
Ability to enjoy a wide range of healthy indoor and outdoor activities without stimulants
Manners, etiquette
John is often asked about his charitable work. He has this to say:
"Helping others has brought me tremendous joy and satisfaction. I believe that once we have provided for our families, we should then work for the good of all. . .
"There are so many opportunities to make this a better world.
"Personally, I am motivated by Matthew, chapter 25, verse 40:
'In as much as ye have done it unto one of the least of these my brethren, ye have done it unto me.'"
If you know of someone struggling with addiction ready to dedicate themselves to a 2 year program, here is the contact info: